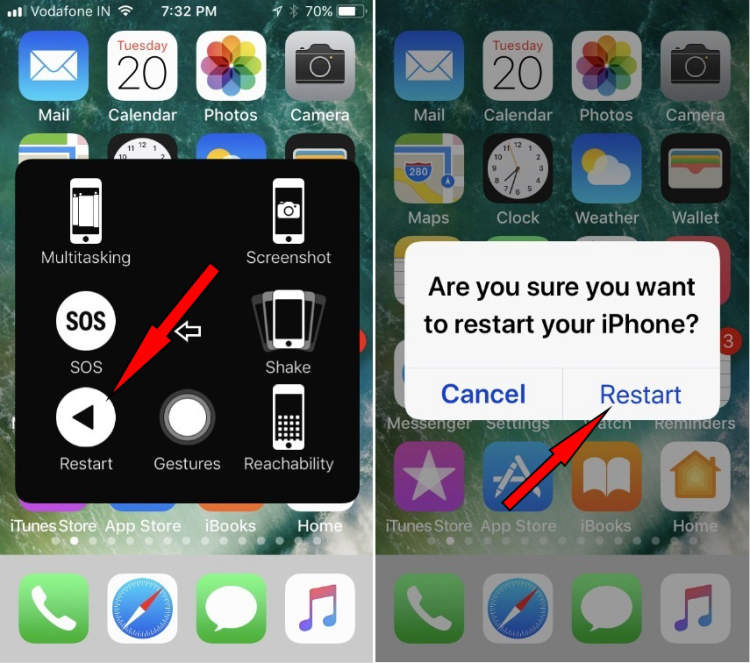 It's easy to forget that smartphone devices, like Apple's iPhone, need to be occasionally restarted. Restarting the phone will clear the RAM and improve performance, not to mention quickening the phone and improving battery life.
Knowing how to restart your iPhone quickly and effectively is an essential skill for any smartphone user. In this article, we will help guide you on how to restart your iPhone in no time at all.
Steps for Restarting your iPhone
At one point or another, your iPhone device may just freeze or fail to respond to inputs. This can be a result of unfinished downloads or updates or just poor internet connection. In such cases, the best way to revive your device is to restart it. But how exactly do you do that? This article will give you the steps you need to restart your iPhone in no time.
To restart your device, take the following steps:
Hold the side button and one of the volume buttons (either the top volume or bottom volume button should work). Don't release the buttons until the 'slide to power off' screen appears.
When the 'slide to power off' shows up, drag the slider to the right to shut down your device.
Wait for about 10 to 15 seconds. If you want to, you can look for the Apple logo during this time; it indicates that the device is rebooting.
After the iPhone reboots, hold the side button to switch it back on. Wait for the lock screen to show up and you're done.
The above 4 steps should be all you need to restart your iPhone device in no time. Restarting the device should help resolve any errors or bugs that may be slowing down your device.
Methods for Speedy Restarting
A restart is the easiest and most basic way to fix problems and improve the functioning of your iPhone. It can also provide extra access to new features. Restarting can become a time-consuming procedure, however. To improve the speed, there are a few methods you can apply:
Force-Quit Apps: Many of the functions on your iPhone are powered by apps. To speed up a restart, try force-quitting the apps that are taking up the most memory. To do this, double-click the Home button and swipe up on the apps you want to quit.
Clean Up Your Home Screen: If your home screen is cluttered, it takes up more memory, slowing down your iPhone. Clean up your home screen by moving unnecessary apps into folders.
Close Network Connections: If you have any apps connected to a network on your iPhone, it can slow down your restart time. Many applications like Mail, Safari, and App Store can keep their network connections open, so close each network connection before restarting.
Disable Unnecessary Features: If you don't plan to use some of your iPhone's features, you can disable them for a faster restart. Things like location services can take up a lot of memory, so only keep them running if you need them.
By using these methods, you can greatly reduce the restart time of your iPhone and make using your device more efficient.
Common Problems During Restarting
It's relatively easy to restart your iPhone, but sometimes common problems can occur. To help avoid these problems, here are the most common ones you might encounter.
iOS update
If your iPhone was trying to update its software when you restarted it, then it's possible that it might still be in the process of updating. If your iPhone's stuck in this state, then it won't as easily as usual. To fix this, try restarting your iPhone again – this time, hold down the home button and the power button for at least 10 seconds. If the update doesn't start installing, then try de-activating your Find My iPhone.
iPhone freezes or stops responding
If your iPhone is frozen or non-responsive, then it's likely that something is wrong with one of your apps. To fix this, try restarting your iPhone again – this time, hold down the home button and the power button for at least 10 seconds. If the app still doesn't start working, then try force-quitting it. You can do this by double-clicking on the home button, and then swiping up on the app you want to force-quit.
Data Loss
It's a good idea to backup your data before doing a restart. At the very least, make sure to back up any important data to iCloud. If your data has been lost, then the first thing to to try would be to restore your iPhone using iTunes or iCloud. If that isn't successful, then you may have to take your iPhone to an Apple store and get it serviced.
Conclusion
Restarting an iPhone can be done quickly and efficiently by holding the Sleep/Wake and Home buttons simultaneously. The restart time using this method is much shorter than a full restart, which can take several minutes. It's important to be aware that switching off the device using this method, while effective, will not delete content or settings. To fully power down and restart the device completely, a full restart needs to be performed.
Having the ability to restart an iPhone quickly can be extremely useful, both in restoring a device to working order and to erase any cached or dormant data, which can improve device performance. With proper timing and knowledge of the appropriate buttons to press, a user should easily be able to restart their iPhone in no time.